DAV Class 3 Science Book Solutions are given for the students so that they can get to know the answers to the questions in case they are not able to find it. It is important for all the students who are in DAV Class 3 currently.
Here we are providing the solutions to all the chapters of DAV Class 3 Science Textbook for the students. They can refer to these solutions while they are solving the questions from the textbook My Living World.
DAV Class 3 Science Book Solutions are provided here to help you clear all your doubts and boost your exam preparations. All these DAV Class 3 science My Living World Book solutions are very easy to comprehend and help you to understand all the basic concepts in a much better way.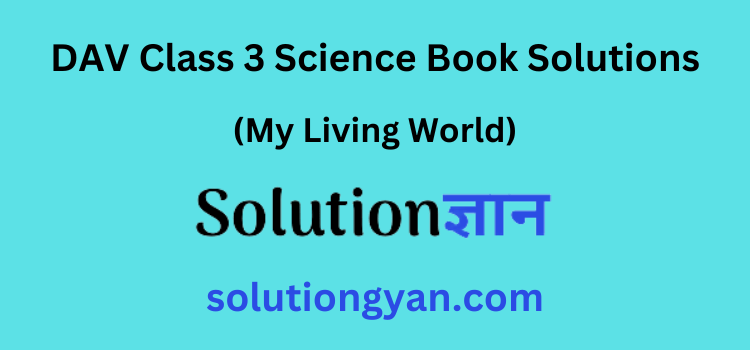 Chapter Wise DAV Class 3 Science Book Solutions
Chapter Wise DAV class 3 science book solutions is given below. Here class 3 science question answer is provided with great explanation. You have to just click on the chapter wise links given below to see the solutions for the respective chapter.
If you are looking for more solution of DAV Public School book of any classes then you can freely visit or check our site solutiongyan.
Importance of DAV Class 3 Science Solutions
The DAV Solutions for Class 3 Science are important for the students of the same class. Through these, they can get answers to those questions on which they get stuck. These are the valid solutions and students can check these whenever they face any confusion in the questions.
Frequently Asked Questions on DAV Class 3 Science Book Solutions
How are DAV class 3 Science book solutions helpful for exams?
DAV class 3 science solutions provides answers to the exercise questions as per latest DAV school syllabus. This makes it easier for DAV class 3 students to attend all the questions in the exam on time.
How many Chapters are there in DAV Class 3 Science Book?
There are total 10 Chapters in the DAV Class 3 Science Textbook. The first chapter is My body and last chapter is Water.